Skrotslaget tv recording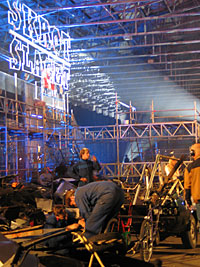 Today K and I went to a tv studio recording of Skrotslaget, Sweden's version of Scrapheap / Junkyard wars activinspire kostenlos downloaden chip. Not that it could measure up to those two. The part we watched was the final competition between the machines that the teams had built during 24 hours Download the lease free of charge. It was filmed in an indoor warehouse in Frihamnen. There wasn't that much junk in the "junkyard", but I guess that's understandable when you turn it into an indoor event Download dream day wedding full version for free.
We were assigned to support the red team, and got cheer rhymes to chant. It all seemed very staged. The task was to build machines that would take the whole team (4 people) to the other side of a 1,5 meter high brick wall, without them touching ground charts gratis downloaden. The teams had chosen different tactics – one of them was going to get OVER the wall, one THROUGH it. I won't reveal which was the most successful one – you'll have to watch the program sometime in August chip.de nero free.
What struck me was how very Swedish the whole thing was. After one of the teams had won, there was hardly any cheering, no champagne and no crazy summing up herunterladen. Ola Lindholm simply said "you won" and that was about it.