Time magazine: YOU are the person of the year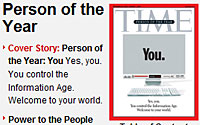 TIME magazine has a tradition of naming someone who has done something great the Person of the Year. This year, TIME magazine has declared that the person of the year is: you.
Yes, the citizen media revolution and what everyone is contributing with on the net is the most important thing this year. We are all the most important people. Cool!
TIME Managing Editor Rick Stengel went about collecting nominations through YouTube, submitting a video asking for nominations. Also cool.
Stengel writes:
Within a few days, it had tens of thousands of page views and dozens of video submissions and comments.
The person of the year issue will be out on December 25, a computer screen and what looks like a mirror on the cover, so that you'll see yourself when you look at it.
The piece on Person of the year by Lev Grossman is already published on the web, though. Grossman on the reasons behind their decision:
for seizing the reins of the global media, for founding and framing the new digital democracy, for working for nothing and beating the pros at their own game, TIME's Person of the Year for 2006 is you.
He points to online collaboration on a hitherto unsurpassed scale, to communities built by people wanting to create great things together. Wikipedia, MySpace and YouTube are mentioned.
It's about the many wresting power from the few and helping one another for nothing and how that will not only change the world, but also change the way the world changes.
He also talks about citizen journalism, and a readiness for a new take on media.
And we are so ready for it. We're ready to balance our diet of predigested news with raw feeds from Baghdad and Boston and Beijing. You can learn more about how Americans live just by looking at the backgrounds of YouTube videos—those rumpled bedrooms and toy-strewn basement rec rooms—than you could from 1,000 hours of network television.
Social media is a success today, but as Grossman turns his attention to the future, he is less certain.
Web 2.0 is a massive social experiment, and like any experiment worth trying, it could fail. There's no road map for how an organism that's not a bacterium lives and works together on this planet in numbers in excess of 6 billion. But 2006 gave us some ideas. This is an opportunity to build a new kind of international understanding, not politician to politician, great man to great man, but citizen to citizen, person to person.
(via Fredrik Wackå)