eBay hidden nudity phenomenon hits Sweden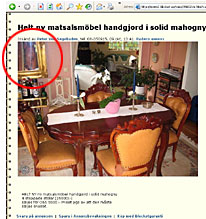 "Reflectoporn" is when you can see a reflection of the photographer in the nude in an object. This has been a phenomenon on eBay for more than a year now – here's an article from Ananova.
Now it has appeared on the Swedish site Blocket, a place where people can sell stuff (not auction site). In a photo depicting a livingroom table with chairs, you can see the naked photographer reflected in a mirror. Blocket removed the add, but it's already mirrored in lots of places.
More reading and peeking on the subject:
Hot kettle on eBay – this claims to be the ad that started it all
The nude guitar player (click on "Supersize picture")
reflectoporn.com – with lots of links