Schlagerparty in Hamburg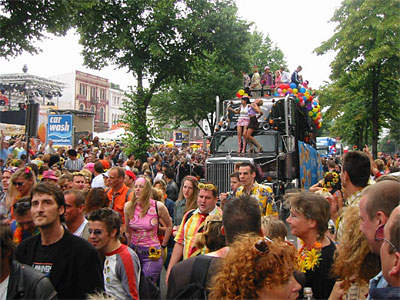 Schlagermove
is a yearly event in Hamburg. Big lorries sponsored by different companies, sports clubs, institutions and the like are decorated with sunflowers, baloons, old schlager records and anything colourful and funfilled. So are the people travelling on them through Reeperbahn, the town's red light district. And all the thousands of people in the streets, singing to the songs the lorries are playing on big sound systems, dancing in the streets, drinking beer and eating food from the enormous barbecue grills.

K and I were standing in a perfect spot, not too crowded, yet getting all the action, surrounded by pink whigs, purple whigs, enormous black afro whigs, lawn whigs with little flowers on them, sunflowers in hairs, on clothes, on backs, flower stickers on just about everything – including a police car and the police officer driving it – balloons in every colour… And then there were the songs. By now I know the refrains of several german schlagers, like Taxi nach Paris and Fiesta Mexicana. :-)
We were in Hamburg for five days, but it felt like a longer stay. We managed to cover it all: Reeperbahn (which has more than strip clubs these days, among other thing an excellent club called Prinzenbar where they had an 80's evening, playing only big 80's hits. Great music!), Alser and channel cruise, the harbour, Hagenbeck's Zoo, the TV tower, loooong walks (my feet still ache!), window shopping in the city center and so on. I actually needed to do it all, since I'm writing a travel guide for Aftonbladet.
I'm no sports freak, and I never thought I'd say this, but I actually feel great sympathy for a soccer club. Hamburg's second fussball club, FC St. Pauli, has a jolly roger as a team symbol, a supporter club made out of punks and a great party spirit.