At Le Figaro
Chasing Jack's shadow, I find myself just a block from his favourite hangout in NY. Le Figaro is a small café and pub with what sounds like delicious desserts. I settle for a latte though, watch and listen in to the customers' conversations. The elderly men at the table next to mine are condemning Bush. Nice people. Here I get the feeling that the customers are locals, which is much nicer than to be in a typically touristy area. It's just me and my crazy hunt that has taken me here. But I seem to be blending in okay. In the subway a woman asked me for directions.
The latte comes in a wide mug with ears on both sides. Like it was soup. Interesting.
It's very sweet. I shouldn't have added sugar before tasting it. My bad.

My hair is all tangled. I stood at the front of the Staten Island Ferry earlier today, the wind blowing so hard that I had problems breathing. And my newly washed hair looks anything but.
I moved my stuff from the hostel to ping's place this morning. Luckily it was the same subway line. Already my packing is heavy. Well, atleast I got rid of a litre of whisky I had brought for ping.
The place he rents is really nice. Lots of wook and light colours, spacious and fresh – a nice change from the hostel dorms.
After a short rest I headed for the WTC construction site. It's still a big hole in the ground, though more organised. Lots of work going on. They have put up a platform for visitors, with instructive displays and all the names of the victims of 911. There were also some photos of lower Manhattan at the turn of the century, in the twenties, seventies etc.
People are taking a lot of photos. So do I. I don't feel quite good about the site becoming a tourist attraction, but I guess people, like me, need to see it, to try to understand. Somehow it still seems so unreal. I visited the WTC back in 1988, but never went up in the towers. Just looking up at them made me dizzy. But like for many people I was amazed at human invention and progress. Invention and progress are not always good things, though. They can be used by destructive forces as well, as the world witnessed two years ago.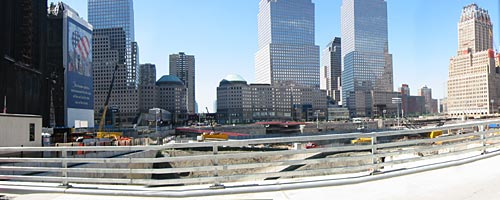 —
Le Figaro in the afternoon
My coffee comes with two ears
And I can almost hear
Jack scribbling away
at a notebook not unlike mine
Cast iron and wood, the bar is well stocked
this is a place to feel at home in
I am home in this city and no city
always searching, as was he
Just hoping to find a better answer