Bowery Poetry Club anniversary party
I got back to the hostel at around 15.30, after having first walked through Central Park to Strawberry Fields and the Lennon memorial – a big mosaic star with the word Imagine in the center – and then taken a subway to Times Square. There I bought a battery for my Ixus. $86. Robbery. But I needed it.
I decided to go to the Bowery Poetry club's anniversary party at 18.30. But first I needed to rest. Typically enough I woke up at 19.00. I went anyway, hastily getting ready and made it down there til just before eight. And I am soooo glad I did.
It was great. Bob Holman – one of the leading figures in the slam scene – was MC, and on stage were people like Anne Waldman, who has been a part of the beat scene for ages, Sapphire, Eric Bogosian, Ishle Yi Park – she really moved me, Taylor Mead – "Warhol superstar" and go way back with the beats – Hal Sirowitz, John S Hall, Beau Sia and Bingo Gazingo. A lot of different styles, attitudes and messages. But a lot of love and brilliance.
A lot of gratitude, too, to Bob Holman for creating such a haven for poets and artists and free minds. It was home. I though of Jonathan's and almost cried.
Notes from the evening: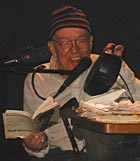 â€?I haven't played to this big an audience in… 10 days.â€? – Taylor Mead starts to speak. Then reads Kerouac, suddenly exclaiming:
�Drunken asshole! He was a beauty though. When he was drunk, he was a drunk poet. He was beautiful.�
…and then going on to do a fairytale poem with illustrations on wrinkled paper, letting each one drop to the floor. When comparing one of them with, was it Madeleine Albrigth..? he pondered: â€?I'd better be careful. Can we be sued? Can we get some more publicity?â€?
Trembling, shaking, yes
but with authority
every word hitting a nail
right on the head
a nail in the coffin of the dictatorship in disguise
where a president can be elected by a minority and not give a fuck about the world he sets out to "save"
fuck him, Taylor says, in not so many words
just the wave of a cane
And he loses his script
and we don't care
just happy and grateful that he is there
powerful, sweet, completely there
And he reads Kerouac, proclaiming "Drunken asshole!"
and we forgive him
because of the way he says it
the way he pays 267 dollars for a 2000 dollar apartment
because that's enough
the way he reads notes from his tiny notebook arbitrarily
and they all make sense
the way he does it all, totally there
Hal Sirowitz is the best selling poet in Norway, according to Bob.
Beau Sia got really agressive on stage, ending up in what Bob called �one of the best freestyle battles this club has ever seen� with Taylor Mead. Cool.
Celena Glenn had great poems, but was a bit unsecure in her reading. Phrases like �let my tears bomb your principles� stuck, though.