Thumbs down for FeedoStyle
About a week ago a new tool for blogs and websites to include an RSS feed was introduced: FeedoStyle.
I read some positive comments about it (can't find exactly where now) and decided to try it out. But boy was I disappointed. For one thing, it doesn't seem to be able to handle Swedish vowels in a feed, but instead duplicates those entries – one version with the correct vowel and one version with the vowel replaced by a question-mark: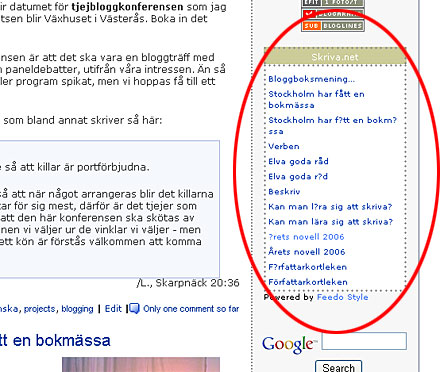 Also, if you click on one of the links you are not taken straight to the corresponding blog post, but have to waste time on a useless feedostyle interstitial – with, surprise, surprise, AdSense ads: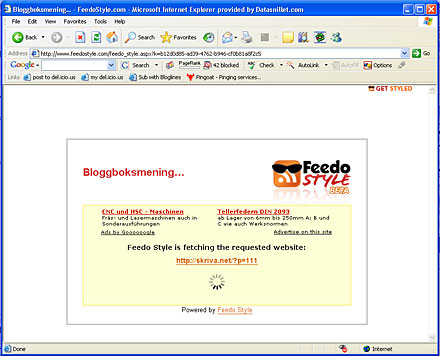 On top of that, there seem to be performance issues.
Too bad, it could have been a useful service. But as commenter Charles pointed out, there are alternatives:
http://www.feeddigest.com/
http://www.howdev.com/services/feedsweep/
http://www.rss2html.com/
http://www.feedonsite.com/
http://jade.mcli.dist.maricopa.edu/feed/
http://www.rss-to-javascript.com/
http://www.feedroll.com
I'd like to see an independent evaluation of those.