To combine two different tastes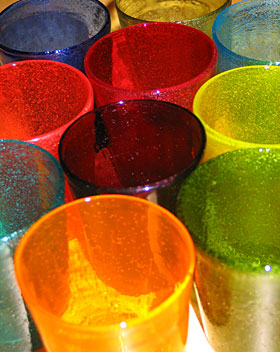 I finally found the lemon yellow bubble glass at Indiska, which brings out the colour of the others nicely. It was about the seventh store I had checked. :-) Now my collection is complete.
K commented on the glasses' irregularity and thought I had bought two different kinds, since they weren't the same height. When I explained that they were hand made and thereby irregular he just shook his head and took one of our old glasses. :-)
It can be a problem having such different tastes when living together. We've been trying to find nice bedside tables for quite a while. Today we looked at a couple of them that I liked, but K thought them hideous. When he described what he would like, I though the same. I wonder if we'll ever find something we both like. In the meantime, books pile up on the floor.
We brought some furniture to my old apartment today. It still won't look like someone's living there, but atleast it won't look completely empty. Roffe was there working on the kitchen skirting-boards. It's starting to look good.
Tomorrow I'll check out the fleemarket at Maximteatern. Perhaps I can find some finishing touches there. Still the problem remains that I don't have a couch to bring there. Perhaps I can buy one at Myrorna in time for when people will come to look at it.