Stuck on Betapet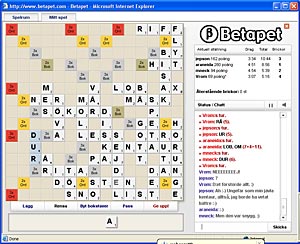 All of Sklommon has gone Betapet crazy.
Betapet is like the word game Alfapet, but on the net. It's very addictive. The good thing about playing online is that there are never any arguments on whether certain words should be allowed – the program decides. The list of approved words might not be perfect, but atleast it's the same for everyone.
My back isn't very happy about my sitting in front of the computer a lot, though. I need to listen to it better. But it's hard when you're used to spending so much of your time in that position.
There's a snow storm coming up, so the weather doesn't really inspire outdoors activities either.
Archived comments from my old publishing system:
David writes:
Alfapet = Scrabble My 2 cents..
M-o-m: 5 – 2005-2-12 20:29

Björn from Stockholm writes:
So what will the next game be called? Gammapet or Pet 1.0? :-)
M-o-m: 5 – 2005-2-13 7:32

Lotta from Stockholm writes:
When I first heard the name Betapet I thought the site would be about betting on people's pets racing or in some other way competing. :-)
M-o-m: 5 – 2005-2-13 12:19