Sleep
I'm seriously disturbing my diurnal rhythm (whee! had to look that one up. New expression learned) by sleeping between 16 and 20 yesterday, and 17.50 and 21.30 today. But I'm not quite well. I'm not sure what it is. It started with a pain in my chest (not the heart side), which sklommon claims to be where the liver's at (anathomy was never my favourite subject in school ;) ). Then I've had intense headaches and today I felt sick too.
Now I feel better, though the headache remains. I guess I'm not helping by having waffles and jalapeño poppers for dinner (no, not together), but that's what I found in the freezer.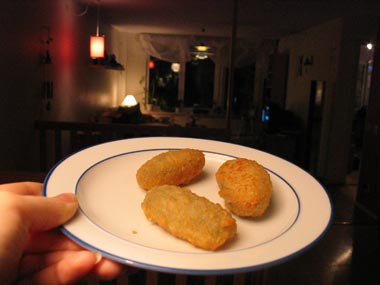 Before it got worse I went to UR for a tv recording of "Orden", a program/talk show about language. Today's guest was Mustafa Can, who's done some work for Aftonbladet during the war in Iraq. Hultman showed me the control room and explained how the stuff works.
The bedroom is finally starting to look like one. The past week we bought the bedside tables from Indiska – I've been wanting them all along but K doesn't like them. Now 10 months' negotiations are over, when I agreed to have spotlights in the ceiling in return for getting the tables. Fine. I just hope he finds some that I can live with. :-)
Now we just need some nice reading lamps, something to put on the wall, something to put the tv on…