Doing laundry in the heat
It's 30 C in the shade. What was I thinking turning today into a day for doing laundry? Phew.
Well, I'm almost done. Just one more round to the laundry room-turned-hell hole.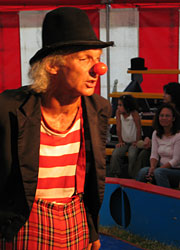 There's a Circus tent outside my window. Some Danish cirkus has put it up, and their performance is tomorrow. I'm not a great fan of circuses. I feel bad for the animals, the trapeze acts make me nervous and I don't like clowns. This one is pretty small, though, and from what I can make out of their site and from what I see from here there are no animals. If I'm bored tomorrow evening it might be worth the entrance fee of 40 SEK to check it out.
I'm reading Julia Cameron's book "The Right to Write", trying to find writing exercises that inspire me. But mainly it's a book for getting started, setting the ground for building a writer's life. Sure, I still need a bit of that. But I'd like to find some day-to-day exercises. If anyone has any pointers to such literature or sites, in English or Swedish, please let me know.