Gregg Spiridellis: We're in the silent film era of the online medium

In a new book about online video, Gregg Spiridellis of JibJab media is interviewed about the phenomenon of viral spread of video clips.
If you create something that's interesting enough to a lot of people, they will pass it along. "This Land" was political satire that was hitting both sides equally. People were sending it to their entire address books without worrying about offending people.
Gregg Spiridellis, along with his brother Evan, became well-known over night for their political satire videoclip "This Land", a cartoon showing of George W. Bush and John Kerry singing alternative lyrics to the song "This land is my land, this land is your land…".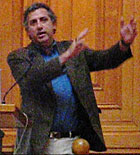 The clip was brought up as an example of the power that the internet is starting to put in the hands of normal people by Joe Trippi – the man who changed political campaigning through the use of blogs as campaign manager for Howard Dean in the US elections – at the Nätrot conference in Stockholm earlier this year. Trippi said:
The reason I show this to you is because during the elections, 65 million Americans viewed this in a two week period. Only 21 million Americans watch the evening news on television on a regular basis.
This was not made by a multi-million dollar news agency, or an entertainment agency, it was made by two brothers with 500 dollars in a garage.
Being original, smart and funny, and being it real quick seems to be the key to success. Not very surprisingly, perhaps. But exactly how the mechanisms behind viral spread work is not that clear. Spiridellis says:
Viral distribution is about creating something with enough entertainment value that someone wants to share it with a friend. Nobody knows what makes something go viral.
That's what makes it so challenging. We're in the silent film era of the online medium.
Apart from creating something that people really wants, likes or atleast reacts to, which seems like a fairly basic rule, Spiridellis has some more advice for up and coming video producers who want to make an impact on the web:
Keep to the short format – about 2 minutes – 4 is maximum, catch the viewer's attention during the 5 first seconds – that's about the time you've got, use music to hook the audience, and make sure people can contact you and offer you jobs – put your website address in the clip.
"This Land" is a good example of how the audience is caught immediately.
Music is great to hook an audience quickly, and you have to tell jokes very quickly. Every line in the song is a lyrical gag, and every lyrical gag has a visual gag. You're creating something so dense, people want to watch it multiple times.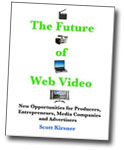 About the book
Scott Kirsner, blogging about "digital cinema, democratization, and other trends remaking the movies" at CinemaTech, recently published a book on online video, The Future of Web Video: Opportunities for Producers, Entrepreneurs, Media Companies and Advertisers (the link goes to Lulu where you can purchase it if you like, in either pocket or pdf format). You can also download a preview pdf of 17 pages (the book's total is 100 pages).
The book has sections on how to get paid for your videos, about going viral, taking the step into tv, cellphones etc, on web feature films, advertising etc. Also some statistics and links.
(via New Media Musings)