Final round: TV7's weather presenter will be a viewer, elected by viewers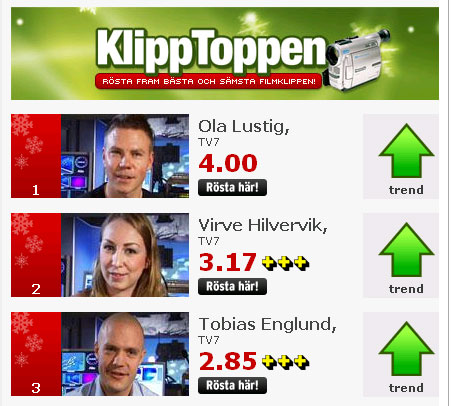 Today starts the voting for Aftonbladet TV7's weather presenter. Readers/viewers have been asked to send in video clips of themselves if they want to become the new face for the TV station's weather forecasts.
Ten of them have been selected as finalists and have got the chance to try out presenting the weather forecast on Aftonbladet TV7. They've also been tested for weather knowledge… with a somewhat meager result. You can see the interviews and test films before voting.
The voting process takes the shape of popular video clip toplist Klipptoppen, where you view one clip at a time, then grade it. Klipptoppen is also made up of viewers' video clips, and the toplist's Christmas edition is in it's final round right now.