Yet another YouTube clone in Sweden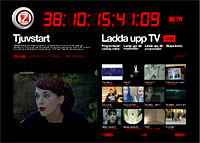 They are popping up with increasing frequenzy, the Swedish answers to YouTube. Not long after FejmTv, which quickly became a success, and Aftonbladet's Klipptoppen, MTG-owned ZTV joins the trend with "Ladda upp tv" (upload tv). The difference between "Ladda upp tv" and for instance FejmTv will be the focus on young talent, says ZTV CEO Caroline Karlsson to Dagens Media (my translation).
Uploaded clips that are good enough will be shown on tv.
[…]
Web and tv becomes one, that's the future and the question is more about which medium fits which material the best. For our target audience, the internet is an important medium.
Ladda upp tv is pretty much all over the beta version of ZTV's new site, the full version of which will launch in 38 days.
ZTV also has a video casting for people who want a job at the tv channel. They encourage you to send in your video clip applying for the job. Notably, one of the competitors, Ola Lustig, is also one of the finalists for Aftonbladet TV7's weather presenter job. Yep, there's definitely a future in tv for this guy, somewhere or other.