Swedish Digg clone Digga adds video support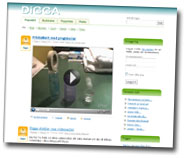 Digga, one of the Swedish Digg clones, recently redesigned their site. Just like Digg did recently, they are now also adding support for video clips, allowing users to import video from 15 different sites. Each video site supported has a custom tag at Digga, for instance a YouTube clip is included by writing <youtube>dMH0bHeiRNg</youtube> if the clip id is dMH0bHeiRNg. They'll end up having to invent new tags for every new video site, I guess, but I'm not sure it's a problem.
Already a video clip post has made it to the top of Digga's front page.