Hyperlocal sites from UK's largest newspaper publisher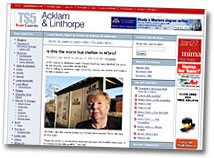 The Teesside Gazette has launched five hyper-local sites, under the name Your Gazette, based on postal codes in the Middlesborough area in the UK. Interestingly enough, this initiative comes from UK's largest newspaper publisher Trinity Mirror. It's interesting to see that a huge company can think about focusing on few people, as is necessary in hyper-local sites. And the five will eventually become 23, Michael Hill, Trinity's head of multimedia, tells Journalism.co.uk.
News on Your Gazette include "Roadworks in your area", a disabled woman getting a job at the local M&S, a man celebrating his 100th birthday and the worst bus shelter in all of Middlesborough. Yep, that's local.
The focus is clearly on the people in the areas, and the sites are now calling out for bloggers to help filling them with content. There are also links to clips on YouTube made by locals.
(via BetaAlfa)