Swedish YouTube clone to share half its profits with users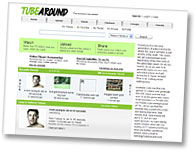 A few days ago, yet another YouTube clone was launched in Sweden, though this time in English and targeted to an international audience. The site is called Tubearound, and what makes it stand out among the other clones is the statement by founder Andreas La Torre Ek that he will share half of the profits with the site's users. La Torre Ek says to Dagens Media (my translation):
The money will be shared in proportion to the number of pageviews the user's clips have generated. The site has only been up for a few days, but it's growing rapidly every day. Among others, Djurgården's (Sw. soccer team, my remark) fanclub Järnkaminerna has chosen Tubearound for their exclusive channel for movie clip uploads.
This is provided that the site indeed makes a profit. Tubearound hopes that the promise of sharing the money will help draw users from YouTube and other similar services.
If the name Andreas La Torre Ek sounds familiar, it might be because he founded Mymilliondollarbody.com, a site where you could buy ad space on a person's body.
Previous posts about Swedish YouTube clones:
Bubblare.se announces award to best video clip
Yet another YouTube clone in Sweden
Bubblare.se's top eight viral videos for 2006
Swedish YouTube clone goes tv show