Brazil's no. 1 online newspaper – and its bloggers | Guest post by Birgitta Wilén
Birgitta Wilén visits Folha Online in São Paulo, finds out about how they work with blogs, and ends up eating and talking about great food.
I enjoyed reading Birgitta's story and invited her to publish a guest post here at Citizen Media Watch.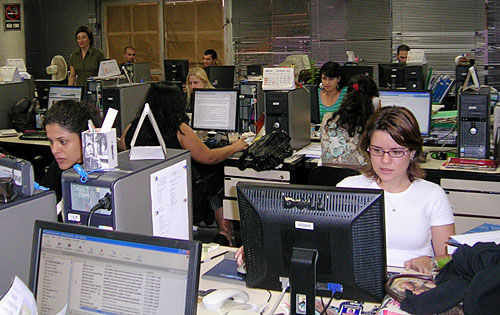 Folha Online is the most important online newspaper in Brazil and the editorial office is situated in São Paulo.
Folha went online seven years ago. Fifty people work in shifts; there is always someone there to update the news, in the open landscape office.
The website has about 700 000–1 million visitors per day. The number of Internet users in Brazil, and their online time, is increasing fast.
I check in as a visitor and the information board in the lobby tells me that it takes about four buildings to host the Folha Online, the Folha Newspaper and the Internet portal OUL, which Folha Online is a part of.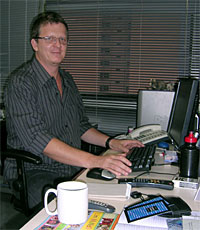 Ricardo Feltrin, 44 years old and the chief web editor, shows me the editorial office.
– People want to read about gossip and, in second place, about news, he says.
Ricardo has been working as a journalist for 16 years and he runs the web TV show "Ooops!"
It is all about national and international celebrities. The click rate is very good.
It is to be found on their Internet portal OUL. And Ricardo himself is a well-known character in São Paulo.
After being introduced to the staff and a quick walk through the website, it is time for lunch.
– What I would prefer to eat? You can find anything you want here in São Paulo, Ricardo says.
We grab a taxi and make the short trip from downtown SP to the part of the city that is called "Liberdade". It is the Japanese district and a result of the labour immigration from the Asian country during the 19th century. It made São Paulo the "second city of Japan".
We enjoy: dumplings, stuffed squid, extra ordinary sushi, and sashimi, while talking a bout life, travelling and Folha Online's future.
Ricardo is worried. The owner of Folha (the Newspaper) and Folha Online is Octavio Friar de Oliviera. He is 94 years old and no one really knows what might happen when he is not around anymore.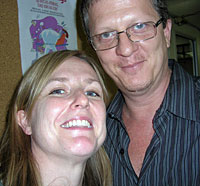 We are having tempura (deep fried) ice cream for desert. This is one of the best Japanese restaurant is São Paulo. The artist behind the counter creates wonderful little masterpieces and you are allowed to bring you own fish and get it prepared.
In the taxi back to the Folha, I ask Ricardo Feltrin if they are using any user generated material, like blogs, on Folha Online?
He tells me that they only have their own bloggers, which are already connected to Folha Online.
Their first blog was the political blog and the author Josias de Souza did his first posting in October 2005. He was followed by Sonia Francine Gaspar Marmo. She writes about sport, a culture blog, a blog about gay people and a seven more blogs.
One of the Folha online bloggers is Marcelo Katsuki. He is 38 years old and works as a graphic designer at the online paper.
The name of his blog is "Comes & bebes" (food & drink). He tries to do at least one posting per day.
– I wanted to learn how to cook and did cookery course, he says and smiles.
Marcelo did hesitate when he was asked if he wanted to start a blog and write about food, drinks and cooking.
– There are people writing about gastronomy for the Folha newspaper and they are very good, but I decided to have a try, Marcelo says.
He did his first posting in August 2006.
His blog is divided in to a couple of different sections, which makes it possible to squeeze in about everything that falls with in the area of food.
He still has to buy the cookery books that he writes about.
– My friends tell me that I should not do that, but it is my hobby, Marcelo says.
His favourite cuisines are Thai, Brazilian-Bahian and Japanese.
– Normally I get about 5–10 comments on every posting. At first they were complaining about my writing, but now I am mostly getting positive comments, he says and gives me a kiss on the cheek, the way you do in Brazil, when we say good buy.
I guess I have to send a Swedish cookbook to Marcelo, when I get back to Stockholm. Even though Ricardo Feltrin tells me that he has heard that Sweden has got not quite so good food, but very nice women ; )
Birgitta Wilén, São Paulo, Brazil.
Read more about blogging and newspapers in Brazil at the International Symposium of Online Journalism