Swedish youth community closes at night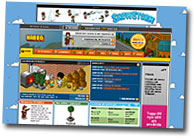 Swedish youth community Habbo.se announced today that their community site for teenagers will be closed at night, between 1am and 7am. In a press release, Alexander von Roth, CEO for Habbo Sweden, commented the decision (my, somewhat free, translation):
The thought behind the decision is that Habbo, like other places where young people meet, should have a set closing hour. We want our users to be alert when they go to school in the morning. Closing the site at night is part of our ambition to make Habbo a safe and fun meeting place for our users.
Other steps that Habbo has taken to achieve this is to have grown-ups monitor the site and answer questions and offer support to the users, a language filter that will take away personal info, swear-words and racist expressions, phone support for parents, guidelines for Habbo usage, and a guide for the users parents.
While all these things are certainly recommendable, I wonder if closing Habbo at night is really good for business.