Twittervision – see the world twitter
A lot of Twitter mashups have popped up lately. The latest that I've tried out is Twittervision, a live world view where twits show in real time. It's rather addictive watching people's actions described all over the globe. I'm still pretty hooked on Twitter, and I like that they keep developing the service. Though the increase in numbers of users have caused them some server problems. At times today it's been impossible to reach the site. Hopefully they'll fix it soon.
Twittervision is in beta, and is a service from David Troy, who's also behind Twittermap, which is also pretty cool. You can type in your location and see what others in your area are twittering about. I found myself in Stockholm, though since I haven't given an exact address it's not actually where I was at the time of twittering.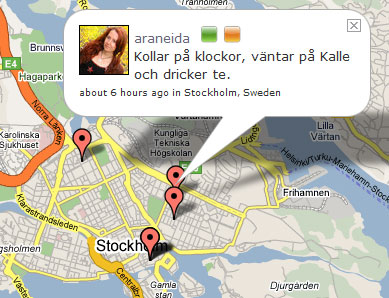 When Twitter adds gps data, this will be really interesting. Now the locations are often pinned wrong, twits from people travelling show up in their home town.
Troy is also behind Twittersearch, a search engine for Twitter.
There are also a large number of Twitter widgets to use on blogs or other sites. Twitter has added to their own widgets, or badges as they call them, letting users display the latest twits from their added contacts. Here's an example on my personal blog.