More than two million characters created in Habbo Sweden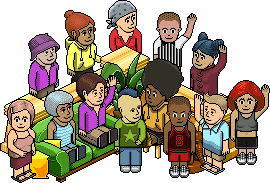 In a country with only nine million inhabitants, the virtual world Habbo having 2 098 571 registered characters is quite an accomplishment. Habbo is a community for teenagers where you create virtual characters that inhabit a world that is compared with a virtual youth center by Habbo themselves.
In a press statement, Habbo writes (my translation):
If Habbo was a town it would be bigger than Stockholm, thus becoming the largest city in Sweden. Habbo is also growing globally. Today there are more than 76 million virtual Habbo characters worldwide. This can be compared to Second Life which has around 5,3 virtual inhabitants.
The reason behind the fast growth is a continuos creative development of the community. All the time new activities are added, which are exciting, informative and fun.
Among the activities mentioned is a guest appearance by Swedish singer Darin and q&a with representatives from the youth section of the Red Cross.