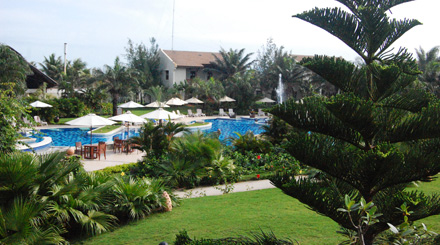 When browsing I thought the Palm Garden Resort looked pretty nice. Though I thought that the self-appointed five stars were probably just a way to attract more tourists. Gitta agreed that a few days at a resort would be just the thing for us, so we made a reservation and asked to be picked up at the airport. The driver turned up with a sign saying "Mr Holmstrom Charlotte", and we joked about that on our way to the car.
It is funny, in all the guidebooks and on most sites where I've read about Vietnam it has said that the people are really nice and friendly, but so far our experience had been quite the opposite. Ho Chi Minh City was one bad encounter after the other. We're wondering if it's because we're two women travelling alone.
Anyway, this driver was an exception, and when we reached Palm Garden Resort we were greeted with big smiles, warm towels to clean up and a glass of really tasty ginger tea, all the while fillning in the forms for check-in. A guy took us and our bags to our room, and on the way led us through the garden. Wooow. The place is huge, with palm trees, deck chairs and lanterns spread around the area. There's a private section of the beach, and a big pool. The hotel also has a spa and several restaurants. I think we are going to enjoy our stay. : )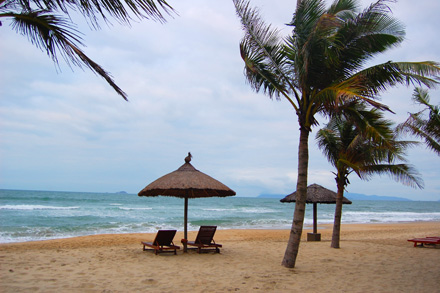 Earlier today we explored Saigon a bit more. The contrast couldn't be larger. What a noisy, dirty city that is. The war museum was very interesting though, though depressing. A lot of photos depicting the victims of war, including mutilated bodies and agent orange victims. And a section about the support for Vietnam from around the world, including a Swedish banner.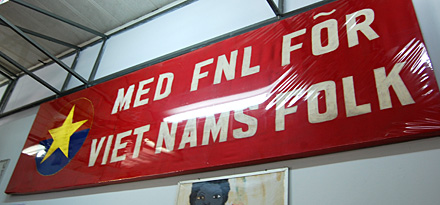 Later we went to the Reunification Palace where we got a guided tour and sat through half an hour's Vietnamese propaganda video about the war and progress in Vietnam.
24 hours were more than enough in Saigon. Never the less I am glad to have experienced it. It makes the serenity of this place worth even more.
Category: Travels
About the Author
Web veteran, journalist, blogger since 1998, loves creativity and originality, photography and her family. [
More
]
View Author Profile