A dirty job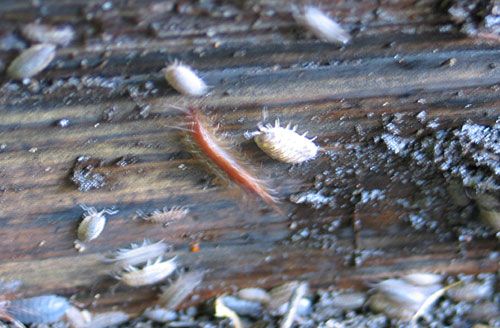 Okay, so you do your gardening, collect the branches and stuff you've cut off from trees and bushes, and the rotten apples in the fall, then those you've left behind in the spring. That's all fine and dandy. What you don't do is leave those apples in black plastic bags until the next fall. Ever. Don't even think about it. No way.
Well, that's what we had done, and today we had to pay for it. Very sleepy I got up at nine and made my way to the allotment, where mom was waiting. We had borrowed the area's cart, and had our own wheelbarrow, so we could each take a load of branches and plastic bags with goo to the Recycle Station at the other end of the allotment area.
We went three or four rounds, for each round getting deeper down in the pile of bags and finding the contents more and more disgusting. The stench! The worms! The snails! The wood-lice! Disgusting.
We were both relieved when we had finished. The good thing about doing work at the cottage, as I prefer to call the allotment, is that you can take a lot of coffee break. I had brought some shortbread and some chocolate that Irmgard had brought us yesterday.
We celebrated her birthday, the four of us, at our place. We had lunch and then showed her the cottage, where we had coffee and chocolate cake with icecream. It was a nice day, with scattered clouds and it was fairly warm.
In the afternoon we played Pictionary and Rappakalja. It took a while for the moms to grasp the rules – it was their first time playing both of the games – but that just added to K's and my amusement. In the middle of it all P called. Later she told me that she had a laughing fit. Never had she imagined my life would look like this – playing Pictionary with the inlaws. Well… neither had I, a few years back.
For dinner, me, K and Irmgard went to Jimmy's Steakhouse. I wasn't hungry at all after having a big lunch and then the rich chocolate cake, but somehow I managed to get down a big portion of spareribs. :-) Delicious.
We gave her a ride home to Rimbo. On the way back, somehow I managed fo fall asleep in the noisy and bumpy beetle.
Today someone threw something at the window next to the computer where I'm sitting. Whatever it was made a mark in the glass. I looked out but didn't see anyone or anything in particular. A few seconds before the hit I heard someone scream and then quick footsteps. Bloody hooligans.
I'm thinking of joining Friskis och Svettis. They have workout sessions at the mission church here in Skarpnäck, which should be close enough to home for me to actually get my butt there. First session for the term is tomorrow. I wonder if I can make myself go.
Time for a movie warning. Don't waste any money or time on Hellboy. It was utter crap.