Things to do when you're home with a cold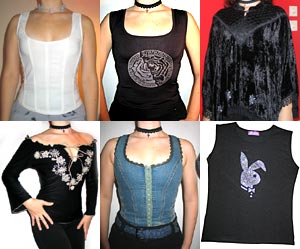 Some of the garments I'm selling at Tradera. More here. (sorry for the shameless advertising here)
Sleep for eight hours – in the daytime
Take photos of clothes and put ads on Tradera to sell them
Shop waaay too much at Tradera
Shop some at eBay too
Drink lots and lots of tea
Watching telly and surfing in bed – how I love the wireless network!
Sleep some more
Take american cold&flu pills and get shocked by how fast they work
Vacuum clean the apartment
Forget to eat
Take 3 big boxes with linnen and towels out to the storage room
Empty the cat litter box
Take a looong bath with lots of water – I nearly caused a flood
Listen to Butterfly Boucher over and over again
Plan xmas presents
Have lots of small citrus fruits
Decide to go to the cabaret tonight after all. With a little help of my red pills.
Listen to MRadio
Archived comments from my old publishing system:
Fredrike from Stockholm writes:
God in heaven, woman, why do sell these clothes?! If I wasn''t about triple your size, I''d buy them in a heartbeat. Except maybe for the Playboy-top, I don''t like them. But the others are fab, especially the denim top. Oooh. Someone cool me down. :-)
M-o-m: 5 – 2004-11-5 19:22

Lotta from Stockholm writes:
:-) Well, some of them, like the denim top, I''ve tried to squeeze into, but there comes a time when you have to realize you just ain''t size Small, and never has been. I bought it too small, since that was the only size left in the shop, hoping I''d lose weight… but, well, those ambitions never work.
M-o-m: 7 – 2004-11-6 2:34

Lotta from Stockholm writes:
…and as for the white one, on the other hand, is too big. :-/ The cape I liked a lot and still like, but I never seem to get an opportunity to wear it.
M-o-m: 7 – 2004-11-6 2:34