Meja's back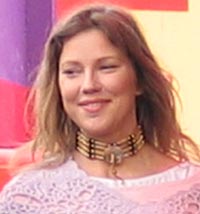 It's been awfully quiet about Meja the past few years. But today she performed at Gröna Lund, at the Childhood gala. One new song (I suppose!) and "All about the money". I wonder what she's been up to, and if there's a new album coming.
Other performers at the gala were Nanne Grönvall, Shirley Clamp, Alcazar, Peter Jöback and Daniel Lindström. Queen Silvia was there – she's the founder of the Childhood foundation.
Some photos can be found here.
Going to Gröna Lund marks the start of summer, and though it was a cloudy and not very warm day, it felt good. A lot of people were out walking.
Update: It turns out Meja actually released an album in March 2004 – "Mellow". Haven't heard anything about it though, so maybe she's focusing on her Japanese career.