More podcasts from Bloggforum 3.0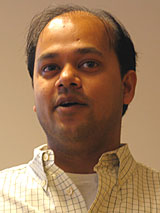 Here are two more podcasts from Bloggforum 3.0. The first is Moz Hussain from MSN Spaces. (52 minutes, 43 seconds. 49MB)
He said there are 307 000 MSN Spaces users in Sweden. I doubt that very much – I don't think more than a fraction of them are active. He also talked about the integration with MSN messenger, which is interesting, and the fact that a lot of bloggers don't want to share their writing with the world, merely with a group of friends.
The second one is from the panel discussion on copyright. (My comment on the discussion here.)
Unfortunately I ran out of batteries after 40 minutes, so this is only the first part of the debate. (40 minutes, 25 seconds. 38MB)