Eight hours in Oslo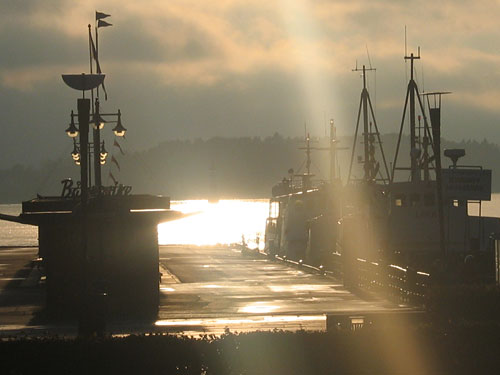 I'm not going to say a lot about today's trip to Oslo: it was a long day, the weather was nice but cold, the light at the harbour was amazing. Check out the video for more.
As you can see, I'm experimenting with vlogging, and I have a lot to learn. I only have my Canon G5 to use for filming, which means I can't zoom while filming a clip and the quality's rather bad. But apart from that… there must be lots to learn. I don't even know what file format to use. Now I use wmv because that's what my simple editor (Windows Movie Maker) supports. Ideally I'd like to display the video clips in the page, like Raymond does.
It's a pity I don't have the time to learn more right now. Meeting the guys from the vlogging seminar at Elverket after bloggforum was somewhat an eye-opener. There are only five Swedish vloggers, they said. Imagine to go into a field where you can be no. 6. That's appealing, for sure.
And then there's the part about having a story to tell. The clip from Oslo is simply a documentation of our day, nobody's saying anything, we're just walking around. I need to figure out how and if to take a larger part in the clips.
Update 2005-11-24: There are atleast nine vloggers in Sweden.
Update 2006-11-26: I changed the link to the vlog clip to YouTube
Archived comments from my old publishing system:
Andreas Haugstrup from Aalborg, Denmark writes:
Great work on the video, Lotta! I really like your cutting pace. And the quality looks very good. Don''t let the camera hold you back. Some people are videoblogging with $15 webcams and they''re doing fine. :o) You can generate code for embedded video at http://freevideocoding.com/ (scroll down past all the "support this site" crap)
M-o-m: 2 – 2005-11-23 7:31

Lotta from Stockholm writes:
Thanks Andreas! Glad you liked it. :) And thank you for the link – I''ll be sure to check it out.
M-o-m: 7 – 2005-11-24 13:9

Lotta from Stockholm writes:
Wow, that was easy! I''ve now updated this post, embedding the video.
M-o-m: 7 – 2005-11-24 13:35

Raymond from Oslo, Norway writes:
You better tell me next time you get to Oslo. Glad you are starting vlogging! Great!
M-o-m: 5 – 2005-11-25 4:22

Raymond from Oslo, Norway writes:
Oh, and Argh I hate time-stamps. Nobody should know I am up this early/late. Darn, I am exposed. blip.tv is good for hosting video, freevlog.org is good for Some basic tutorials on how to publish. when it comes to how to editing software, are you alien to the idea of using QuickTime pro? Heh, both Andreas and I are QT freaks. :)
M-o-m: 5 – 2005-11-25 4:25

Lotta from Stockholm, Sweden writes:
Raymond – Gosh, that IS early! :) I wanted to avoid QT because I dislike the bundling with iTunes. It''s more of a political statement than a quality consideration – I have no idea which is best. Can you give me some good arguments why I should rethink?
M-o-m: 5 – 2005-11-25 9:14