Early morning at the tram stop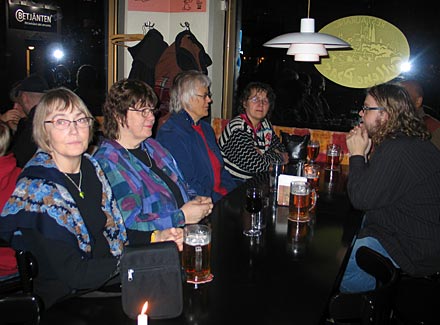 I woke up at 4 AM this morning, unable to go back to sleep. Thoughts of texts and departures, my future writing and how to find a natural time and place for it, kept me awake. I am bad at goodbyes, and it's a bit sad to part from this writing group. We've got to know eachother and have worked intensely reading and giving feedback on eachothers' texts over the past four months. It has been hard work, but most rewarding.
At the same time I am looking forward to taking a break in my creative writing. I need to fill up the well, to use Cameron terminology.
While lacking spare time over the past few months, I have got a lot of writing done, something I would never have done on my own. I hope that in a couple of months I will feel like reworking some of the material.
I arrived in Gothenburg a day early, visiting Sofie. We went to Hisingen where we looked in second-hand stores and had lunch at an Indian restaurant. The evening was spent at S's place, nice and relaxed.