"Mall" by Eric Bogosian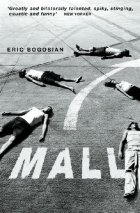 I just finished reading "Mall" by Eric Bogosian. It's a book about a number of more or less disturbed individuals who happen to be at or in the vicinity of a shopping mall on the day that a guy decides to set it on fire and kill a bunch of people.
There's Jeff, in search of a life path, feeling he doesn't really belong in his group of friends, but sticking just to be with beautiful and mysterious Adelle, whom he has a crush on.
There's Michel, who works as a security guard and has lost his wife and the meaning of his life a short while ago. He is also haunted by memories from Haiti.
There's Donna, dissatisfied housewife who goes to the mall to find an adventure.
There's Danny, dissatisfied husband whose wife has lost interest in sex.
And there's Mal. Mal the gunman, who has all of their destinies in his hand.
Little by little you get to know the different characters, and some of their paths cross as the story unfolds. This is not a book of heroes. They are all losers in some sense, and in a way that is liberating. But it takes a while for the plot to thicken, and perhaps there are a bit too many characters – it's tricky keeping track of who's who when starting out.
Still, it lingers in my mind after I've finished reading it. I keep thinking about the private hells that "ordinary people" go through, without the outside world ever knowing.
I bought the book after seeing Bogosian perform on stage at the Bowery poetry club in New York a couple of years ago. Originally he is an actor and playwright, and his performance was very lively, but also quite different from his writing, as far as I can remember. Quite humouristic. Though there's plenty of dark humour in the book as well.