Shopping at the book sales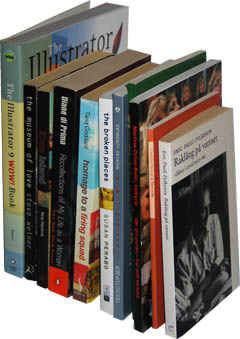 The annual book sales are here. This year I couldn't find anything I wanted in the catalogues, but none the less I ventured out to see if some book stores might have additional items that weren't listed in the catalogue. At NK the English book sale was on, and though it had been on for a couple of weeks, I found a pile of books. The prices were really good, and since I'm a member of their book club I got an aditional 15 percent off.
This is what I bought.

The Illustrator 9 WOW! Book
Though it's for an earlier version of Illustrator, it looked like it had a lot of handy tips that are still applicable in later versions. Over all a nice looking book with lots of examples. And the best part – it was reduced from 745:- to 10:- (!!)




The museum of love by Steve Weiner
A rather worn copy, but something about this book intrigued me. It has what looks like a two headed owl on the cover, wearing a crucifix. The texts on the back compares Weiner's writing with a mix of Günter Grass, Jeanette Winterson and Jack Kerouac. Sounds fab! Also, it's got a five star rating at Amazon (something I found out later, of course).
Apart from that, I don't know much about it. Sometimes that is the best way to approach a book, just like with a movie. (4 for 100:- -15% makes it 22:-)




Eros Island by Tony Hanania
This was the one I hesitated about. When you shop at NK's sale it's not about finding those books you've meant to buy, but about taking a chance on ones that in some way appeal to you. I liked the colours on this one. The text on the back said â€?An uncompromising picture of an individual and a generation who have lost their way by one of our most original novelists.â€? Not very specific, was it… We'll see. (4 for 100:- -15% makes it 22:-)




Recollections of my life as a woman by Diane di Prima
Now this was a real find! It's not often that you come across the women of the beat generation in Sweden. And finding a book like this on sale… it made my day. Diane di Prima was one of the most active women poets in the beatnik movement. She lived for a while at Timothy Leary's psychedelic community at Millbrook. In 1969 she became famous for â€?Memoirs of a Beatnikâ€?. This book, however, was published in 2001, and has the 67 year old di Prima looking back on her life. (4 for 100:- -15% makes it 22:-)




Homage to a firing squad by Tariq Goddard
The title caught my eye, and once again – the cover. It's set in Spain during the civil war, and it's Goddard's debut novel. I have no idea if it's good or not. The cover has nice paper though, with a structure. : ) (4 for 100:- -15% makes it 22:-)



The broken places by Susan Perabo
This one I got interested in because I read on the cover that Perabo teaches creative writing. It's about a man rescuing a young man from a fire, then, whether he likes it or not, becoming responsible for this guy's life. Another 5 star at Amazon.
I need to go back to NK though – they charged me full price (148:-) instead of the sale price (35:-) for this one.


After having browsed the English shelves I also had a look at the 10 SEK sales rack (well, 8.50 with my 15% off).
There I found some books written by people I've come into contact with, one way or the other. Mostly poetry.
Eric Pauli Fylkeson – Raklång på vattnet
Charlotta Porseryd – Bänd ordet
Martina Orlop-Bolin, Valkyria – där din punkt här mitt komma
Pelle Andersson – Döda män är alltid viktiga
Niclas Lundblad – Teknotopier
All in all eleven books for around 200 SEK. Now that's what I call a book sale!