Three days in Barcelona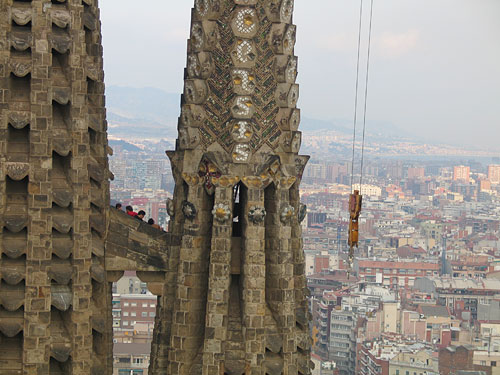 Finally a break from all the walking! Doing Barcelona in three days wears on your feet. But it´s fun too. We´ve seen a lot of interesting Gaudí buildings, done a bit of shopping and strolled round in the old town and El Born.
Yesterday we went to a Tapas place a friend of Gitta's had recommended, but unfortunately it was full, and we ended up getting ripped off at the Rambla. Very annoying. What they did was give us 1 liter beers instead of normal ones, then charging 10 euros each for them. Bastards. Avoid a place called Mickey's if you go there (yeah, I know, we should have known a place in Barcelona that choses the name Mickey's is no good – but we were tired and hungry).
But yesterday was nice apart from that incident. We went to Sagrada Familia, and Anna and I conquered our fear of heights and joined the others, going up in the towers. A great view and such a great building. Earlier on we had also seen Casa Vicens, Pedrera and Barttló, so it was a real Gaudí day.
This morning we also went to Parc Güell, strolling around and watching the sculptures and buildings.
Gitta and I have both caught colds, probably on the airplane. Normally I would be home in bed if I was feeling like this, but with only three days in Barcelona, there's no time for that. We try to manage by eating cold&flu medicine we've purchased in one of the many pharmacies.
The apartment is smaller than the photos indicated, but quite okay once we figured some things out, like the heating and how to operate the stove. The view is great – from the zoo all the way to Montjuïc.
Being close to the zoo unfortunately also means quite a bit of noise from the animals, but they quiet down at night, and I don't think Anna and Cissi, whose rooms are on that side, get too disturbed.
Tomorrow I head home, or rather… I go from Skavsta airport to Arlanda airport – I have to go straight to a work conference in Åre. A cab will be waiting in Östersund.