From Rocketboom to the newsroom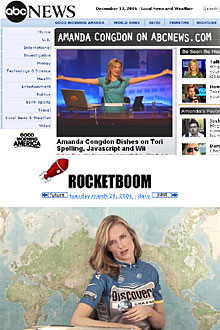 Amanda Congdon has landed a job at ABC News. The former vlogger star will keep up her usual Rocketboom style in the short news clips she'll be doing for ABC, the NY Times reports.
On her first minishow, which became available yesterday on ABC's Web site, Ms. Congdon shows up in a taut Steely Dan T-shirt and opens with her trademark girly casualness: "O.K., this is weird."
Virginia Heffernan who wrote the Times article has an interesting analysis of the Congdon phenomenon, comparing her way of expressing surprise or disbelief straight into the camera with the melodrama of Walter Cronkite.
It's an interesting career step, and yet one more proof of the shooting stardom that can stem from blogging.
(via Scripting News)