Swedish blog aims at becoming a local The Onion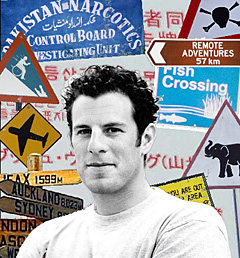 Doug Lansky is the guy behind Sweden's first real attempt at a clone of the Onion, named Faktumé. He's an American travel writer and lecturer living in Stockholm with his Swedish wife and three kids.
I asked Doug about satire writing for Swedes, among other things.
This is the original interview which I translated and edited into this article on aftonbladet.se.
What brings you to Sweden?
– You could probably figure it out with one guess… the weather in November. No, naturally it was a Swedish woman. We met in 1991 while we were both tågluffare (interrailers). I've been visiting Sweden off and on since then, but have only lived here the last six years. Now I feel more at home in Sweden in many ways than I do in the US.
Are you still working as a travel writer?
– Yes. That and giving lectures about travel (with National Geographic Adventure Magazine) is my main income. Lately, I've been writing a lot for The Guardian. Before that I was writing a column in Scanorama for three years and writing/editing the rest of the travel section. Plus, I write books and various freelance magazine and newspaper pieces, including some political satire for Esquire Magazine.
Why do you think nobody's used the Onion's formula in Sweden?
– Hard to say. So many things have worked well in both the US and Sweden – The Simpsons, Abba, Seinfeld, Ikea, On the internet side, Tjuvlyssnat was successfully taken from "Overheard in New York." Producing original material is considerably more demanding, though, and writing humor is one of the most challenging formats. Spermaharen was close to The Onion's formula. It had a little more absurd humor than The Onion and was less news oriented. Grönköpings Veckobladet feels – in my eyes, anyway – quite dry and seems to be aiming at an older audience.
Is writing satire for Swedes different from doing it for Americans, you think?
– The basic approach is similar, I think. But you have to have a sense of the nuances of a culture to pull it off. I've learned loads living here, but it's a work in progress. However, having a full grip on the culture is a work in progress for Swedes as well. So the more people you have to discuss with, the better. Fortunately, I have some Swedish friends (and a wife) who seem to enjoy this. It's nice to throw in some silliness now and then, but when satire works best, it highlights a nugget of truth and presents it in a new and entertaining light. I like this example in The Onion: "Bush Vows To Eliminate U.S. Dependence On Oil By 4920."
What reactions have you got so far on Faktumé?
– So far the comments have been overwhelmingly good. The main complaint is that I'm not putting up five postings per day. At the moment, it's just a labor of love. Still need to pay the bills. And spend time with my kids. So I can't devote my entire day to this. I could put up a few entries a day, but I'm trying to concentrate on quality.
How come you don't allow comments or trackbacks on the blog posts?
– I've seen on other sites that people sometimes use such comment areas as places to promote racism, sell penis enlargement services, offer to transfer millions of Euros from Nigerian banks and other things that probably shouldn't be there. I just don't have the time to go through and monitor all the comments. Also, for what it's worth, The Onion has managed without comments as well.
Who else is writing the blog? I take it you write the English section and your Swedish friends write the Swedish versions?
– Something like that. There's a bit of secrecy at this point (one friend, for example, works in Rosenbad and wishes to remain anonymous). Typically, it gets written in Swenglish by me, then translated by my wife or friends. We discuss the word choice and storyline and they point out any cultural reference opportunities I may have missed. Then I translate it back into English for the English version. No matter what language you write it in, it's always good to show it around for some feedback, put it down for a little while and return to it with fresh eyes.
Perhaps irrelevant to Faktumé, but what are the most amusing signs you've found in Sweden? (Doug is the editor of
– Haven't had any great ones from Sweden (mostly signs with the word "fart"). Swedes have mastered English a bit too well. Even better than Americans, who seem to mess up the signs quite often.
Anything else you'd like to add about the blog or your exeriences with this project?
– Humor is the last thing you grasp when learning a foreign language. One of the most frustrating things about being a foreigner is to be in a room full of laughing people and be the only one who doesn't understand the jokes. I've lived outside the US since 1991in many countries and know this frustration all too well. Even though most speak perfect English here, there's very little humor (if any) translated into English. So for the tens of thousands of English speakers in Sweden, this may offer a unique window.