Make your own "Digg" lists with Plexo

Plexo is a cool tool by Squidoo – a site where you can make personal recommendations and share knowledge on different subjects – that lets you create your own Digg-style lists and lets your visitors give the different items points. Squidoo founder Seth Godin calls it "the long tail of Reddit (and Digg…)", and indeed, that's what you could get at with these listings. When you're the editor, you decide which part of the tail is to be in focus, and then take it from there.
Godin writes:
Watching the scuffles at the bottom of the Digg pyramid, it became clear that there just isn't enough room on the front page of Digg for all the stuff worth seeing. So what if there were 100 or 1,000 or 100,000 front pages?
So how does it work? You use Plexo within what Squidoo calls lenses, i e the recommendations that the site is made up of. You have the option to let visitors add items to your list.
To vote, you have to be a logged in member of Squidoo.
Here's Seth's demo plexo.
I couldn't get the plexo widget to work. Will have to read the FAQ a bit more thoroughly. Getting Javascript to work in a wordpress post is tricky to say the least. Here's a screenshot instead.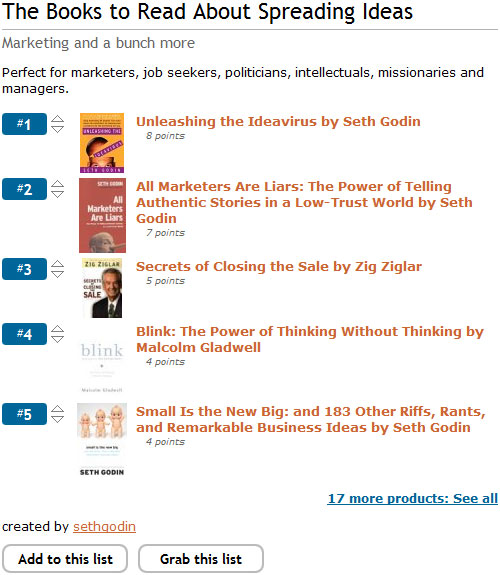 (via Bloggvärldsbloggen)