Campaigning to Save the Internet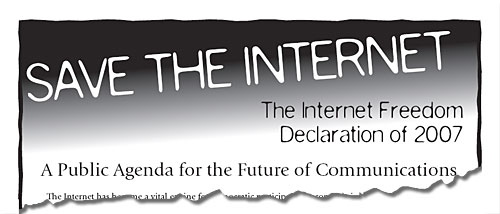 A few days ago, Save the Internet – a coalition of individuals, organizations, businesses and bloggers for network neutrality – launched a grassroot campaign for a free and accessible internet: The Internet Freedom Declaration of 2007.
The Internet has become a vital engine for democratic participation, economic innovation and free speech.
As the Internet becomes our public square and economic marketplace, Internet access must be regarded as a civil right for all Americans. The attempt by some to act as Internet gatekeepers imperils the social and economic promise that the Internet holds for our future. Congress and other public officials have a vital role to play in preserving Internet freedom and ensuring that America's communications infrastructure benefits the common good.
The declaration is directed to "the American congress and other public officials". But it's not only the US that they are concerned about. Universal Affordable Access is at the top of the list of demands. The other items on the list are An Open and Neutral Network and World Class Quality through Competition.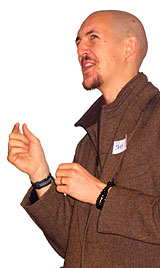 Upon reading this, the words of photographer and writer Ben Hammersley ring in my ears, from when he listed his octet of things that will fundamentally change society in the 21st century (back at Bloggforum 3.0 in November 2005 – the book will be published this October). "To hold it (the development – my remark) back is a social thing, a political thing."
So is the Congress going to listen? Aren't they the "men in suits" that Hammersley talks about…
These are the big ideas that really freak the men in suits out. These really scare people. Because every single one of these ideas, even the things that the people in this room are sitting thinking 'well, we do that all the time anyway'…
We're really scary.
Hammersley says the responsibility is ours, though. Us bloggers. We need to keep doing what we're doing, or we'll lose the right to do it.
(via Social Media)