Aftonbladet Plus subscribers invited to upload videos to "Mitt klipp"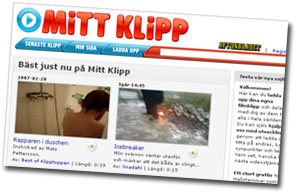 Aftonbladet's new video clip site "Mitt klipp" ("My clip") is up and running. Now members of the paid subscription service "Plus" can upload videos. Anyone can visit the site and look at the clips.
I see this as the next step from the successful video clip toplists such as "Klipptoppen", "Bebistoppen" and "Resatoppen".