Podcamp Europe under way – Christopher Penn's advice on podcast marketing
After some pretty bad network problems everything seems to be up and running at Podcamp Europe. I spent the greater part of Christopher Penn's talk on marketing aspects of podcasting working out these network problems, but here's what I snapped up.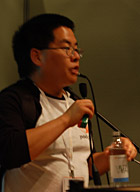 He talked a lot about evangelists, the people who really like your podcast and so they market it for free. And so you have to give something back to them, to make them want to keep doing it. He mentioned live videos from your podcasts, free cds that bands might send you, have competions where the first people who mail in might get some freebies etc.
Also it's a good idea to make places for them to hang out.
He had a bunch of useful advice on important features on the podcast's website.
You need text to accompany your media.
It might be a good idea to have mailing lists or send lists with show notes, news etc.
Have your first episde available for people who are new to your podcast.
Give your visitors things to do on your site, obvious calls to action.
Subscription has to be one click, or you'll lose listeners.
Offer both download and direct play options.
More advice form Christopher Penn:
It's important how you name your show – the name needs to be easy to share by word of mouth.
Add your subscription buttons to your social media profiles on for instance Facebook or MySpace.
Use the analytics – see who's visiting your site, who is linking to you, and go to their site and connect.
A couple of services mentioned:
Reactee.com – you print t-shirts, they set up an sms gateway, and people can text message it and get your url in return
crazyegg.com – shows where on my web page ppl are clicking
feedburner.com – offers good statistics
To check out all my photos from Podcamp, check out to my Podcamp Flickr set.