Mixed feelings among users as Swedish version of MySpace launches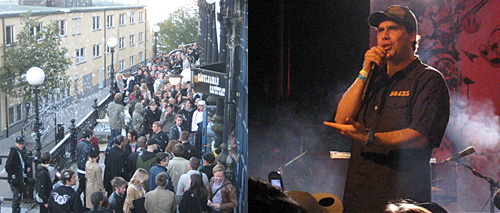 Yesterday MySpace held a big party in Stockholm to celebrate their launch of the Swedish version of the site. Along with a bunch of Swedish bands, LA stand up commedian Pablo Francisco did a gig which was much appreciated by the crowd of Swedish MySpace users and their friends.
Not all users were thrilled about the site being in Swedish though. One person who had journalism as an interest got it translated into belly dancing. And parts of the site still seem like they're translated by babelfish.
– We're working on continual updates to make the site more useful, MySpace's Jonas Lindberg Nyvang told my colleague Arna.
Also, like Hans Kullin noted, the timing of the release was rather bad, since the site was down for maintenance yesterday.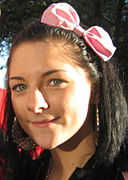 Nevertheless, a large number of fans had made their way to Mosebacke in Stockholm.
Some users we talked to preferred the site to be in English, saying they got on it to improve their English in the first place, and to meet people from all over the world. Others, however, thought it was about time to get a Swedish edition.
– My English is quite bad, so this is a good thing, said Natali, 19.
Pablo Francisco, the lead act at the party, is one of the many artists with a MySpace profile. We got an interview with him about using sites like MySpace for building a career.
– People put my act on the internet, which is a beautiful thing, because the internet is more exciting and more fun to be around than television now. Because you can actually communicate with the stars, get advice and be friends with them, he said.
Check out the video clip from the interview below.