Robin Hamman on the pilot BBC project in Manchester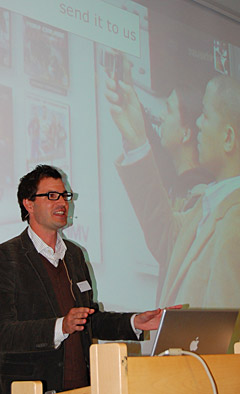 The BBC is a media company in the forefront when it comes to working with its users, letting them contribute in different ways. One of their projects that I've been following for a while is the Manchester blogging project, a pilot study where editors work closely with a community of local bloggers.
Last Thursday I had the privilege to meet with Robin Hamman, Senior Broadcast Journalist at the BBC, and one of the people behind the project in Manchester. We were both invited to speak at a seminar on citizen media at the University in Karlstad, along with web advisor Fredrik Wackå.
Robin has a friendly, bubbly personality and is easy to like, traits that no doubt is a great help both when working with fellow journalists and when workshopping with budding bloggers. Like me he runs several blogs, some private and some in his professional role.
The key features of the Manchester blogging projects, Robin said, are that the BBC has no ownership of the blogs and doesn't manage any content.
Thus it is fairly cost efficient and they don't have to worry about the legal aspects. Instead what they do is they help people get started blogging, then promote their stuff.
(Robin Hamman prefers the word "stuff" to content, or worse "UGC". I can sympathize with that. I think we need new words for "the stuff formerly known as user generated content".)
The BBC hosts blogging workshops in Manchester where people can come and learn how to blog and why. To take part in the project, bloggers need to adhere to the BBC's ethical rules. But they don't seem too strict.
– Bloggers must care about the guidelines, Hamman said. The really, really bad ones.
Some small breaks of the rules seem okay, and Hamman also encourages the bloggers in the project to mail him if they plan to break the rules, so that he can remove the links.
One of the bloggers in the project has been employed by the BBC – their first "blogging correspondent – but apart from that, they blog for free. What the bloggers get out of it is of course the traffic the links on the BBC Manchester website generate.