Hanoi in the cold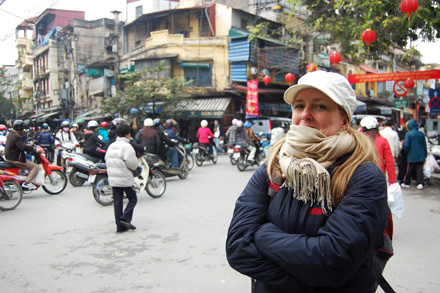 We had decided to stay in Hanoi for four days, during which we could use it as a base for day excursions and possibly a two day trip to Halong bay. What we didn't count on was the cold, though. Some guy said it's the coldest winter in 50 years, with cold winds coming down from China. When we arrived it was about 5 degrees Celsius, and we could see our breath.
Luckily, our hotel Classic I has a well-working A/C which can be put in a hot air mode, so we don't have to feel cold at night.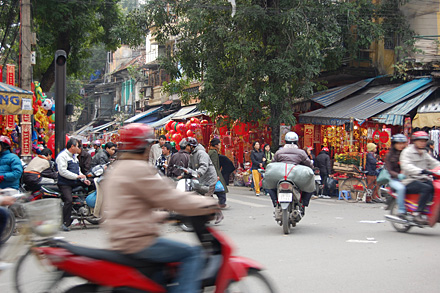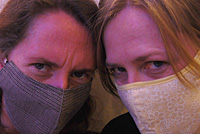 Hanoi didn't give me a good first impression. We arrived late in the evening, and the traffic was pretty bad. Also there are no street lights, which contributes to the dark and dull feeling. But the next day, as we walked rather aimlessly through the Old Quarter, I started to warm up to the place. Though the traffic is hard to get used to. Since the pavements are used for parking motorcycles, you have to walk in the streets, and risk being run over by the constant flow of mc:s, cyclos and bicycles from every direction. We finally found face masks to use so that we would escape some of the exhaust fumes, but at the end of the day my lungs still ached, and Gitta had a throat ache.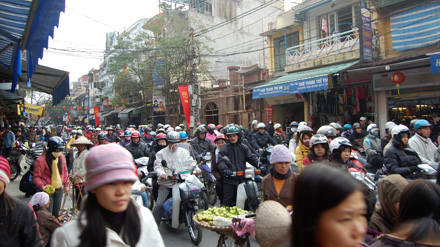 We were uplifted by finding what could possibly be the nicest little restaurant in Hanoi only one block away from our hotel. Little Hanoi has excellent food at good prices. It seems to be family-run, and we have been kindly greeted each time we've been there (four times in all, I think!).
I was surprised to find that prices are actually lower here than in Hoi An, contrary to what I had read. Though there's little space or weight to use for new purchases, I have bought a few silk garments and some other souvernirs.
This morning Gitta left for the airport, and I will do the same in a few hours. Looking forward to the warmth of Thailand, and to seeing K again. If all works out, we'll meet at the airport tonight.