Countdown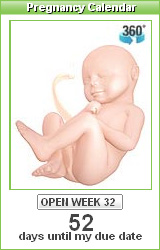 Every day I am reminded of the number of days left to the estimated time of delivery. My Google startpage has a widget showing the baby's growth and the number of days remaining. I'm getting really big now, different body aches limiting my movability by the day… like the day before yesterday I noticed my feet were swollen. So now I wear supportive socks, which is fine but they are so warm – and they only had my size in black.
Sleeping is also hard, since I wake up when I try to move. Tonight my right side felt numb – probably some nerve had too much pressure from the baby.
I have five more weeks at work, and I am trying to do my best. But I can already feel the "preggy brain" affecting me – it's hard to focus and be creative.
Sofie's visited me for a few days, and Saturday we went to Skrattstock, the stand up comedy festival at Långholmen. Quite nice. But I thought a lot of people had quit smoking after the law that forbids it in restaurants and other indoor public areas, but at Långholmen people all around us smoked, which of course triggered Sofie's allergy, so after a couple of hours, and after meeting up with Gitta for a short while, we had to leave.
There was a summer babies market at Street, so we took a walk there and I bought the cutest little blue asian dress. Baby L won't be able to wear it until he's around 1,5 years, but that's okay – I've already shopped baby clothes to last the first 18 months. :)
And then it was on to Rival to meet up with the What's next crew and most of the Jaiku bubble. Nice!
Sofie also had a photo session with me and K. The above pic is taken by her. Some really nice photos came out of it – thanks!