For the love of gadgets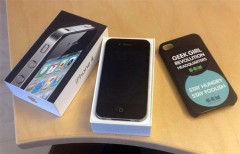 I've just returned my iPhone to my employer. It's my last day at Lärarnas tidning and of course I need to return my gadgets. There will be no mac and no iPhone in my life for a while, and it's hard to let go. Mostly of the phone, which is my extended brain, my social connector, my ipod, my entertainment gadget, my multi-tool and, I'm realizing, part of my identity.
K complains that I use it all the time. He thinks phones are for phonecalls. I seldom use it for talking. There are other more preferred ways of communication. It's not the thing, but what it enables, and does so well. Seamlessly, effortlessly.
Yes, I love gadgets. But not just any gadgets. I love my camera, my phone and my iPad. I'm glad the latter is still here.
At my new work I'll get an android phone. I'll try to keep an open mind. I might like it. But will there be love?