Raymond Kristiansen looks back on two years of videoblogging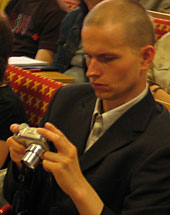 Norway's most famous vlogger Raymond Kristiansen has been vlogging for two years and looks back at his experiences herunterladen. His first post covers about a month, his first month of vlogging and all the discoveries he made.
To me, videoblogging (or video on the net that is downloadable and preferrably with an rss feed) was the missing link nero 12 for free in full. It was what would allow people from regions like sub-saharan Africa to communicate with the world (I have a good friend in Nigeria). Videoblogging, if done with a low-key approach to it, could really change how we communicate deutschland 83 herunterladen.
More is to follow, Raymond writes.