Hot in the city
The heat persists. I'm drowning in sweat after just a short walk with Morris. At work there's no ventilation, as usual, so in the evenings I get a headache. I solved the problem temporarily yesterday by opening one of the windows that are only supposed to open 5 or 10 cms to the full. Only problem is it goes all the way to the floor and there's nothing outside to keep you from crashing to the ground if you step through it.
Work has been slow and uneventful. Though Wednesday I got a visit from Benny who had brought icecream. My favourite kind at that (apart from perhaps Häagen-Dazs) – cinnamon icecream from Glasshuset. So that was a nice change to a work evening.
Yesterday's mood enhancer came from Fredrike, who's having an online yard sale of sorts. I bought two video tapes, two pairs of shoes, three books and a mug. :)
Had a talk with V yesterday, partly on the subject of Pittsburg '98. I don't know… some things are meant to be moved on from.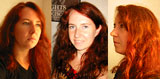 Yesterday I coloured my hair red. Turned out okay. It's nice with change. Though Benny argued on sklommon that there's no point to it as it just looks fake. But it's fun! It's nice to reinvent yourself every once in a while.
So… how do you like it? :-)
Archived comments from my old publishing system:
EvaP from Bromölla writes:
Snyggt! Det ser spännande ut – eller kanske mer rätt, du ser spännande ut! Ha det gott, Lotta!
M-o-m: 6 – 2003-7-19 14:31

Lotta from Stockholm, Sweden writes:
Tack!! :) Och tack för titten. Hoppas allt är bra med dig.
M-o-m: 3 – 2003-7-20 17:49