Norrland, continued
In order to cure my cold I took a nap in the afternoon. I woke up to the sound of my cell phone. I had slept for three hours and was supposed to meet Gitta in 35 minutes. Shit. Not quite up to it I phoned her and decided to come to "Poetry in the Park" tomorrow instead.
This morning I got up early to go to the cottage and get rid of some branches and big plastic bags full of garden leftovers. The recycle station is only open sat-sun 09-12.30, so you have to be an early bird. Me and mom went a few times and got rid of all the bags. Good, good.



Tonight I made teriyaki salmon with rice and French beans. To my big surprise it turned out great. It's a shame I hardly ever cook, but it takes a lot of time and it's no fun just cooking for yourself. Well, that's what I ended up doing anyway, because K preferred to have other food.
As promised, here comes the rest of the story about my Norrland trip.
Wednesday we headed south. In Umeå we visited the Nolia fair, a big indoors and outdoors fair with just about everything you can think of. Huge tires, farmers' equipment, cranes, clothes, meat, cheese, art&craft, animals, anything for the home, forrest machinery etc etc. Unfortunately both K's and my ATM cards had been degaussed, so we didn't have any money (there was no bank within the area).
After a couple of hours' strolling around we continued south, making stops at a cemetary where K had relatives and a couple of other places he knew about. At this one place there were plenty of nice stones – I'm a stone collector, and always like to bring a few from my trips. The ships that came there used them as ballast, so when it was time to load the goods they unloaded the stones. Hence you can find a lot of stones that are unusual for the Swedish coast there.



We stayed at a camping just by Skuleberget, a steep mountain that K insisted that we'd climb. There's a path leading up to a cavern some three quarters of the way up. You have to climb big boulders, roots etc. I've never liked heights and I'm not very fit, so it was a lot of work getting up there. When we reached a platform far up and I realized there was still a long way to go I said I'd wait for him there. The view was still fabulous even if I didn't make it all the way. K didn't go either, so we waited for a moment and then started the journey down again, which proved to be just as much work since it's easy to slip.
When we got down we went for putty golf. I was lousy. I'll have to blame the exhausting climb. :-)

The next morning we went to a museum called Mannaminne – in the middle of nowhere they have created this big museum with different buildings with stuff from different countries. There are tram cars, boats, cars, a church, an art museum, a hungarian cottage etc. I wasn't feeling quite well, so I didn't explore as much as I would have otherwise.
We reached Jennifer's place in Hudiksvall at 4pm. She was just heading out for rehearsals at the place where she and her husband and the band they used to play in some 20 years ago – Agö fyr – was to have a jubilee concert in the evening. We said a quick hallo and got a map of the town.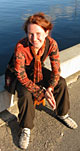 After relaxing for a little while I left K who preferred sleeping and went downtown, which meant about three blocks. :-) Hudiksvall is a very pretty little town with a lot of old wooden houses. The center is only a few streets with a couple of minor gallerias in then. And yet there was plenty to shop. I found a used records' store and a B-Young. Heaven. ;) A pair of pants, two tops, a hooded sweater and some records later I went back to get K, and we had a cup of coffee by the water. Then another stroll along Hudik streets and then it was time to head for café Brun and the concert.
Agö fyr played Swedish, Irish and American folk music. They were quite good, but the best bit was that they seemed to have a lot of fun when they were playing, and that always shines through in the music.
We had a nice evening with good food and wine. At 10pm they weren't allowed to keep playing outdoors, so they moved indoors and the concert became much more intimate. A good move.
After the concert the band and some of their friends gathered at Jennifer's place. She had prepared a lot of snacks and fruit, and people gathered both in the kitchen and livingroom. There the music and singing went on way past 3am, when K and I decided to go to bed. We had a very good time. I'd like to be able to invite a lot of people like that to my home, but living in a suburb always makes it such a big deal. You have to plan far in advance and invite people weeks ahead. I don't like that. I wish I had an apt on Söder.
Next morning it was time to go home. We were both quite exhausted, so when we reached K's mom we rested a little while on her bed before continuing home.