Down the east coast
One and a half weeks' journey is getting close to an end. K and I have travelled some 2 850 kilometers. After Strömsund we headed north somewhat planlessly, but after hours and hours of only trees on either side, we got enough in Storuman and decided to head for the coast a day early. On the way we saw both reindeers and elks.
We reached K's brother Kurt and his girlfriend Cathrine at 22.30 in the evening. They have an apartment in central Skellefteå, but during the summer they move out to a small house by the coast. It was right by the water and very beautiful. The porch is separated from the house so that you get closer to the water. And the house has a lot of big windows, so almost whereever you are you can see the ocean.
Monday we borrowed the boat and took a little trip on the sea. It was too cold for bathing though. And I didn't bring a sweater so the boat ride was less pleasant than it could have been. Back on shore we went blueberry picking. The berries are big and juicy, and Cathrine was surprised to see how much we could find in a short time.
In the evening we went fishing, the four of us. This time properly dressed for the occation, and having got a little more used to the boat's movements, I could enjoy it more. And once we got to the fishing place it was really nice. We got so much fish it was ridiculous. Most of it we threw back in, but sometimes the fish swallowed the hook and it was impossible to get it out without killing them. I tried to count mine, but kinda lost track. I think they were 15 or 16.
When we got back we forgot about the fish, so I still don't know what a perch tastes like. Instead we had barbecue for dinner. Really tasty.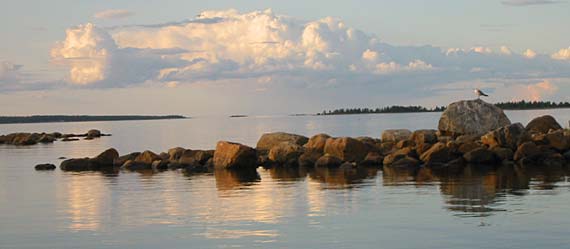 Tuesday I hit the town while K tried to fix Kurt's computer. I didn't do any shopping until we got back to their house though. There I found a store for used books and records.
In the evening we got to meet Cathrine's daughter and her boyfriend. Another good meal. Hmm. I wish I could cook.
More later. My laptop is running low on batteries.