Back to work
Three weeks. Such a short time when it's the length of your vacation. And tomorrow it's over.
If it wasn't for the bad weather during most of this time, I think it would have been okay. K and I went for a road trip in south west Sweden and it rained all days but one. Very depressing. We had a good time, but it just isn't the same without the sunshine.
The one day we did get it it was great – we were on southern Koster, just outside Strömstad, and we rented bicycles and went all over the island, had a lovely – though expensive – lunch at the smoke-house in Ekenäs etc. I even got a light tan. But after that – rain, rain, rain. When we reached Skåne we had had enough, and decided to skip Denmark and go straight home.
After the road trip we've had a couple of sunny days, but most of the time it's been gray and/or rainy.
My hope now lies with the one week's vacation K and I have in September. We're going to try to find a last minute deal to Crete. Keep your fingers crossed!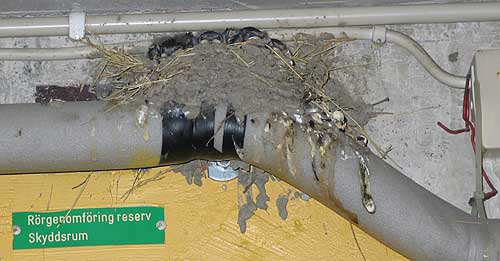 I found this swallow's nest today in the parking garage, close to the ceiling. What an uncozy place to nest! But aren't they just lovely?