Three days in Rome
Lovely weather, though a bit cold, beautiful scenery, great food. That sums up our three days in Rome.
Marina got pick-pocketed Friday, though, and lost her wallet with three credit cards. On the plus side, we got to see the carabinieri (one of two police forces, with no apparent difference) at work. An interesting experience indeed. Marina got to fill out three identical forms. The carabinieri guy, who had a handbag-like bag at his waist, insisted that he should speak English, instead of letting Paola translate from Italian. The pride!
We tried to enjoy the rest of the stay none the less, though of course we all worried that they would have had the time to steal money from her accounts. Luckily they hadn't, but that she didn't find out until she was back in Sweden.
I'm becoming hooked on Tradera. I did quite a bit of shopping for the sole purpose of selling it. More handbags, and blinking cell phone straps. We found a market in the olympic area which had some good deals.
Once more we went to the Colosseum but not inside. I didn't want to go in since I've done it once, and the others didn't like the line or the charge. We did stroll through Forum Romanum though.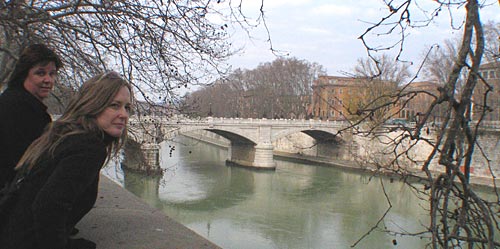 This time we stayed in Trastevere, on the other side of the river Tevere from the historic centre. Paola's apartment is made up of a long corridor. Ours were the two rooms at the end of it.
Unfortunately we had no heating the first night, so I slept in my pyjamas, long socks and a fleece jacket. Still I was cold.
What we did have was wine. Good wine. And cheese. Plenty of cheese. Buffalo mozarella and gruyere. Great stuff! Plus Italian crackers. We were supposed to have some and then go out for dinner, but we stayed in and kept munching.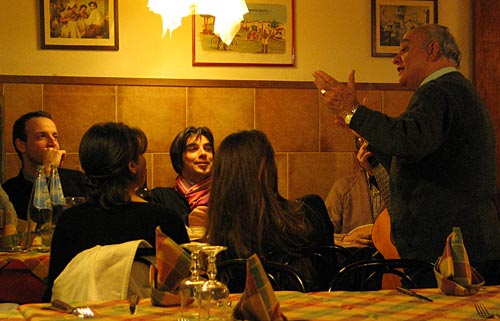 At "our" street there was a really nice restaurant called Il Torre. A relaxed atmosphere, great food and good prices. The best thing was the music though. At one of the tables some elderly gentlemen were having dinner. Then they brought out their instruments and started playing and singing. They were like an Italian version of Buena Vista Social Club. Very charming.
There was more I wanted to write about Rome, but I guess I'll just let you have a look at the photos.