S visiting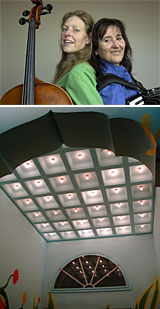 S is visiting this weekend. This evening we went to see a play called Tiden Innan (the time before) about female godesses through history. It's an interesting topic but the play was more like a dramatized lecture for 15-yearolds. Not to say that it was bad, but I was expecting something else.
Anita Berger och Katrin Forsmo told the story about different godesses around the world and how the development went from female to couples to male deities.
They mentioned the pre-historic temples in Malta, and tried to convince us that they had the shape of a woman. From the air I guess you could see that if you really wanted, but visiting them I had no such notion.
To the right is the ceiling in Teater Pero. Nice!
On our way home we found an exhibition in the subway about warnings. It was quite amusing. I especially liked the warning on the camera. S has one more photo in her blog, perhaps the one she's taking in the photo above.
Yesterday we did some shopping. I bought some garments despite my intentions not to shop any more this month. Another Vero Moda cardigan – black this time. A black corset. A green skirt and a purplish red knitted top.