In Colorado, shopping
I am sitting at the big desk in P&D's study/play-room. It's 8AM and I'm not quite awake yet. Like the previous morning I started my day off with a nose-bleed. The air is so dry here, since we're 1600 meters above sea level. That also means you get tired more easily.
The house is Big, as are the surrounding houses. The style of architecture they have here makes me think I'm living in a Disney village. Atleast that's what the houses look like when you drive by on the outskirts, not just here but all around in this area, which means Broomfield and Superior and Louisville, in Colorado.
The twins are cute and they know so much. This Sunday they're turning two years old. Of course they are a lot of work too – I don't envy P&D in that sense. The new baby is due any day now.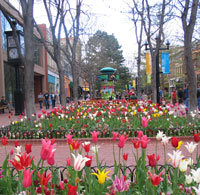 Yesterday mom and I went on our own to Boulder. It's such a charming little town. They are very much into organic food, environmental issues and new age stuff. We had tea at Cafe Prasad at the Boulder Coop market. Very nice. Afterwards we browsed the isles looking at all sorts of stuff we don't get at home. Mom bought some of the carrot/sweet potato/beetroot chips we had at Barbara's (Terra's mediterranean). They're very good. Our stomachs had been acting up, so we decided to go for some non-spicy food for lunch, and ended up going to the Cheesecake Factory where we had a couple of huge hamburgers. It doesn't get more American than that.
I didn't do any shopping in Boulder, but I have been busy shopping for the past few days, so much so that I've decided to bring both my new suitcase (bought a nice Liz Claiborne suitcase at TJ Max) and the old one back home. Originally I had meant for the new one to replace it. The shopping consists of kitchen items, some home decor, beads and other stuff for beading, cheap jewellery from Claire's, some clothes items and a little of this and that. We went to Linens n'Things where mom wanted to have a look at Nate Berkus' collection, and we got a couple of nice turquose-colored wooden boxes (one each), and she bought place-mats for her kitchen.
It's a bit tricky shopping with the boys around, since they tend to grab stuff and put it in the cart, but P's taken us all sorts of places anyway. Now though I feel my shopping is done. Today we'll have a nice day indoors. P is going to take our pictures in the basement studio, and I am going to sort my beads and do a bit of reading. Atleast that's the plan.